Three choirs for children age 4 through 6th grade meet on Sunday evenings… all are welcome!
The choirs meet from 6 to 7:10 p.m., following the same schedule as School of Discipleship. The spring semester has ended; classes will resume on September 10.
Our directors work with our covenant children as we help them learn to sing well and to participate in divine worship with understanding and joy. If you have any questions about children's choir, please contact Chief Musician George Dupere (gdupere@redeemerpres.org) or Carol Waller (cwaller@redeemerpres.org).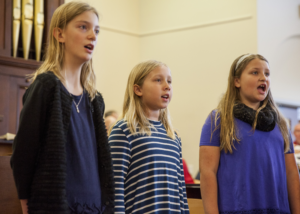 Four Year Olds through Kindergarten
Maggie Missal / Room E210
Four years old as of 8/31/17
Grades 1-3
Meagan Samuelsen / Room E209
Grades 4-6
Grace Einkauf / Covenant Hall